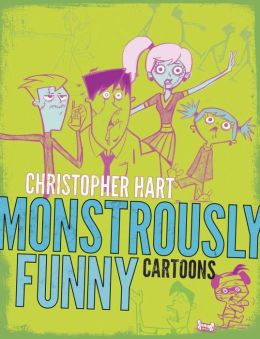 ISBN:
978-0-8230-0716-5
Random House $19.99
I don't draw. But I know kids do and some more than others. Encouraging children's artistic talents is important for a parent. Sometimes kids like to draw armies, space flights, aliens, and yes, monsters. Is encouraging the drawing of monsters a good thing? I really don't think it is, but to encourage children to draw is important.
The opportunity to review
Monstrously Funny Cartoons
really piqued my interest so I chose the book. Once it arrived, I immediately saw the author's/artist's sense of humor and definite talent to draw (pun intended) an audience of budding artists as readers.
Christopher Hart has presented steps for drawing cartoons and explanations for each step. He shows how expressions, tilting of heads, positioning of hands can be accomplished and how important these are. This is an excellent book on drawing. The drawings are funny.
Now I frankly must share what I absolutely don't like about it. Even though the name infers monsters as the subject of the cartoon drawing book, I did not anticipate the heavy load of monsters. Kids conjure imaginary monsters all the time and the entertainment media is overloaded with monsters - zombies, vampires, and all their kith 'n kin. I was anticipating a book teaching how to draw monsters that kids conjure up in their imaginations. I am assuming this book is directed more to the teen and adult interested in an illustration career and who has a penchant for the realm of dark-side-evil monsters. The majority of these are not dinosaur monsters, ghosts, or things that go bump in the night types of drawings. These are the "dark side" monsters.
About the author:
CHRISTOPHER HART is the world's bestselling author of drawing and cartooning books. His books have sold more than 6 million copies and have been translated into 20 languages. Renowned for up-to-the-minute content and easy-to-follow steps, all of Hart's books have become staples for a new generation of aspiring artists and professionals, and they have been selected by the American Library Association for special notice.
DISCLOSURE: I received a complimentary copy from
Blogging for Books
in exchange for my review. Opinions expressed are solely my own. I was not compensated for this review.